Sue Innes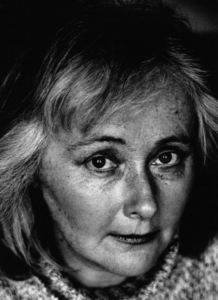 Sue Innes was a feminist campaigner, journalist, and academic who helped establish St Andrews as a centre for second-wave feminism. She was a student here from 1970 to 1974 and founded the Women's Liberation Movement (WLM) and was the head of the University magazine Aien. After graduation, Innes moved to Edinburgh, where she worked as a journalist, appearing on BBC Scotland and reporting in Parliament. She later received her doctorate from the University of Edinburgh and became the foremost advocate for women's rights before passing away in 2005 at the age of 57. 
Early Life
Innes was born May 4th, 1948, in Weymouth, Dorset and grew up in North Wales and Peterhead, Aberdeenshire, where she was exposed to working-class culture and her parents' Christian principles. She attended Peterhead Academy and Grey's School of Art in Aberdeen before dropping out and heading to the United States. 
There, she was a direct participant in the 'Hippy Movement', volunteering in a San Francisco health clinic and attending notable events such as the 1968 Democratic National Convention.
She returned to Scotland in 1970 to study philosophy and English literature at the University of St Andrews. Innes met Jo Clifford, a Modern Languages student and Innes' future spouse, at the University.
Clifford became a playwright and they soon moved to a cottage outside St Andrews. Innes and Clifford lived together in dedication to the principles of communal living, respect for the environment, and equality between men and women. Innes had two daughters, Rebecca and Katie, in 1980 and 1985, respectively. Since they were both girls, it was decided that they would take Innes' last name. 
Career
Innes began her journalistic career with an appearance on BBC's Nationwide in 1973. After graduating from university, she worked at BBC Scotland and Social Work Today. She later wrote for The Scotsman and Scotland on Sunday, continuing there as she started her PhD in 1993. She received her doctorate from the University of Edinburgh in 1998, specialising in the politics of working mothers.
Innes published her most famous book, Making it Work, in 1995; it focused on the lives and social systems surrounding Scottish working mothers in the 1990s.
She taught at the University of Glasgow and held a fellowship at Glasgow Caledonian University. Innes became an official reporter in the Scottish Parliament at Holyrood and a researcher for Scottish women's organisation Engender. At the time of her death in 2005, Innes was acting as an editor for The Biographical Dictionary of Scottish Women, though she passed away before its publication in 2006.
Legacy
Innes' largest contributions to university life were through her feminist campaigns and writing positions. In WLM, which was headquartered at 4 Fleming Place, both students and non-students were invited to discuss theory and participate directly in activist campaigns. Innes herself was noted to have brought the brash American style of protest to the University, and she successfully got women admitted to the Union Beer Garden.
She once registered for a beauty pageant wearing a deliberately ugly outfit to protest the judgement of women based on their attractiveness. Innes served as the editor of Aien magazine for three years, which was used as one of the promotional materials of the WLM. She wrote and oversaw the publishing of articles concerning abortion, women's rights, and other controversial topics. Under Innes' leadership St Andrews came to be known as a "veritable hotbed of feminism". 
After leaving the University, Innes' views shifted to be less critical towards motherhood and the nuclear family. In 1991, she published an article in the Guardian about different members of the WLM and where they had gone, specifically stating that she was happy with her marriage and children.
Innes now believed that women's roles as wives and mothers could coexist with their professional accomplishments and this is what she strove to represent in The Biographical Dictionary of Scottish Women. Innes herself received an entry in the second edition of the Dictionary, which was published after her death.
She has also been recognised with the annual Sue Innes Memorial Lectures on topics pertinent to Scottish feminism since 2006. Innes not only made a valuable contribution to feminism and the University of St Andrews, but also advanced the cause of working mothers through her journalistic work and published writings.