Sir D'Arcy Wentworth Thompson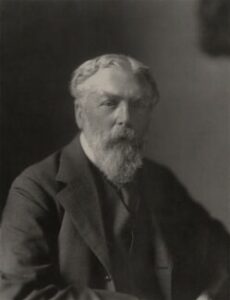 Sir D'Arcy Wentworth Thompson (1860-1948) was an influential biologist, zoologist, and classicist. He is most famous for his work On Growth and Form. In this, he discovered that biological creatures and their physical structures must conform to the laws of physics and can be further understood through mathematical equations.
Early Life and Career
Thompson was born in Edinburgh on May 2nd, 1860. His father was the classical master at the Edinburgh academy and managed to instil Thompson with a love for classical works and languages. Sir D'Arcy Wentworth Thompson attended Edinburgh University and Cambridge University where he studied Natural Sciences.
He then moved on to a professorial role at the University College Dundee (which became part of the University of St Andrews in 1897). Thomson became the chair of Natural History at St. Andrews where he remained for 31 years. In his time at St Andrews, he created some of his most influential works and received awards such as: the Darwin Medal, Linnean Medal, and a knighthood. Thompson had such a distinguished presence that students would visit him in his home at 44 South Street and have memorable discussions with him in his final years.
Contributions
D'Arcy's most famous work, On Growth and Form, acted as the intersection of his vast interests in the fields of zoology, mathematics, and physics. He theorized that the shapes of all living things were influenced by the natural world and had to conform to the laws of physics. He surmised that factors such as gravity, surface tension, and scale have affected the physical characteristics of living beings and that these effects could be understood through mathematical equations. In On Growth and Form D'Arcy addressed everything from the appearance of mathematical sequences in plant growth, to the shape of eggs and the logarithmic spirals of mollusk shells. In publishing this work, D'Arcy revolutionized the field of biology tying it to the field of physics.
Personal Story
In keeping with his broad curiosity in diverse fields, Sir D'Arcy Wentworth Thompson was also an accomplished classics scholar. He inherited his love of classics from his father who was a professor of Greek at Queens College, Galway (in Ireland). D'Arcy went on to publish many works of classical scholarship throughout his life; however, his greatest accomplishment is arguably his annotated translation of Aristotle's History of Animals. In fact, D'Arcy nearly became a classics professor early on in his career when he applied to teach at the University College in Dundee in three fields: Greek, biology, and mathematics. When the university offered him his choice, he picked biology, saying "I chose biology because it was the one I knew least about".