Sergeant John Ripley VC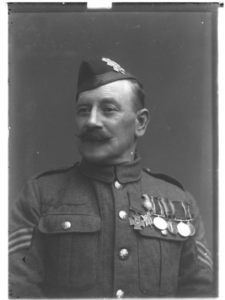 Sergeant John ("Jock") Ripley VC was born in August 1867 in Keith, in the lieutenancy area of Banffshire. After leaving school at 13, he worked in a textile factory spinning yarn. Two years later, he left Keith for Montrose, where he took up an apprenticeship as a roof slater.  After completing his apprenticeship, he moved to St Andrews.  It was in St Andrews where John met Jane Laing.  They married in 1895 and had a son, Alexander Laing Ripley, in 1896. As well as a volunteer firefighter, John was a member of the Fife Battalion, The Black Watch (Royal Highlanders), a territorial battalion, for over 20 years. He retired in 1912 with the rank of Colour Sergeant, although he returned to active service at 48 years of age as a recruiting sergeant. Despite this, he was eventually sent to fight in France with the rank of Corporal as a part of the 1st Battalion, The Black Watch (Royal Highlanders). When later asked how this had happened, he replied "it must have been owing to the slip of the pen". 
Sergeant Ripley took part in the Battle of Aubers Ridge in French Flanders on the 9th of May 1915.  This battle was a disaster for the British, with 11,000 casualties sustained in a single day.  The British commanders had planned to prepare the way for the oncoming troops by launching an intense artillery bombardment.  However, there were not enough guns and the ones that were available were outdated and inaccurate.  The bombardment failed to destroy the German defences, and the onrushing soldiers were easy targets. 
It was during this battle that John won the Victoria Cross, the highest British military honour. He was credited with the following actions which led to this award:
"When leading his section on the right of the right platoon in the assault he was the first man of the Battalion to ascend the enemy's parapet and from there he directed those following him to the gaps in the German wire entanglements, he then led his Section through a break in the parapet to a second line of trench which had previously been decided upon as the final objective in this part of the line. In that position Cpl Ripley with 7 or 8 men established himself, blocking both flanks and arranging a fire position until all his men had fallen and he himself had been badly wounded in the head."
This head injury prevented John from returning to active service, however he continued in his role as a recruiting sergeant until he was demobilised in 1919.  After this, he returned to his former civilian life as a slater and volunteer fireman.  In 1933, at 66 years old, John fell from a roof while working Castlecliffe House on the Scores. He succumbed to his injuries later the day of his accident and was buried at Upper Largo Churchyard with full military honours.