Robert Adamson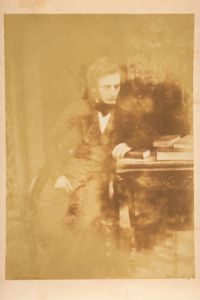 Robert Adamson (1821-1848) was born at Burnside, near St Andrews, and was educated at Madras College. While in St Andrews, he was introduced to the calotype photography process by his brother, Dr John Adamson, and Sir David Brewster. Due to his fragile health, he did not become an engineer as he had originally planned, but instead became a photographer. During his short life, Adamson established himself as a pioneer of early photography, best known for his collaboration with the painter David Octavius Hill. The two created over 2500 calotypes in their 5 years together.
Personal Stories
The son of a tenant farmer, Alexander Adamson, and his wife Rachael Melville, Robert Adamson spent his early years in and around St Andrews, and later died here. He enjoyed a close relationship with his brother, Dr John Adamson, and Sir David Brewster, meeting up with them whenever he stayed in St Andrews. This town was his home and he often returned to it, though his photography career with David Octavius Hill took him all over Scotland.
Photography
Robert Adamson was introduced to the calotype process, an early photographic technique, by Dr John Adamson (his brother) and Sir David Brewster, becoming a professional photographer soon after. Brewster encouraged the well-known painter David Octavius Hill to collaborate with his young friend and the two formed a partnership. Adamson was responsible for the technical aspects of their photographs, while Hill focussed on the artistic expression.
The technical limitations of the prevailing photographic process in the mid-nineteenth century meant Adamson often had to work outside, exploiting the sunlight by using mirrors and reflectors to sufficiently illuminate his subjects. Among their portraits, those of the Newhaven fishermen and women stand out, as they capture the lives of ordinary, working-class people. Besides portraits, the pair also produced landscapes and cityscapes. Adamson also produced photographs independently of Hill, likely including some of his photographs of St Andrews.
After Robert's death in 1848, Hill continued his work and collaborations but never again reached the same level of popularity he had with Adamson.