Lieutenant Józef Kosacki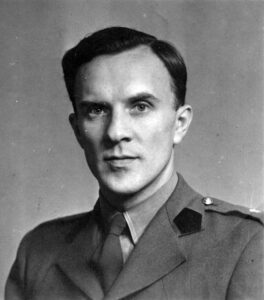 Early Life
Lieutenant Józef Stainisław Kosacki was born on April 21st 1909 in Poland and in 1933 graduated from the Warsaw University of Technology with a degree in Electrical Engineering. In 1937, Kosacki was commissioned by the Department of Artillery in the Polish Ministry of National Defence to develop a machine capable of detecting unexploded ordnance such as grenades and shells located on firing ranges and battlefields. He successfully produced such a machine.
Life in the Army
Shortly before the invasion of Poland in September 1939 by Nazi Germany and the Soviet Union, he enlisted in the army. He became an officer in the Special Signals Corps, a unit that developed electronic appliances for the military. After the fall of Poland, Kosacki was interned in Hungary, but escaped in December 1939 and made his way to Paris. Here he was reunited with remnants of the Polish Army, but along with these forces was forced to flee to the UK after the fall of France in June 1940.
The Polish forces which survived the rout of France by Germany were reformed into the 1st Polish Army Corps. They were stationed along the east coast of Scotland and were tasked with building and manning a series of defences against a feared Nazi invasion. Kosacki was posted to St Andrews, and trained soldiers in wireless telegraphy (sending radio messages in Morse code).
In September 1941, the British Army launched a competition to develop a landmine detector in response to British forces in North Africa being hampered by a lack of such a device.  Hearing of this competition, and of a fatal accident on a beach in nearby Arbroath where a Polish Army patrol was killed by a landmine, Kosacki set out to design such a detector. The Polish army's headquarters in St Andrews was located at Eden Court on The Scores and at the Ardgowan Hotel in Playfair Terrace, and it was there that he was given a laboratory, workshop and an aide with whom to tackle the challenge (Sargeant Andrzej Gabros).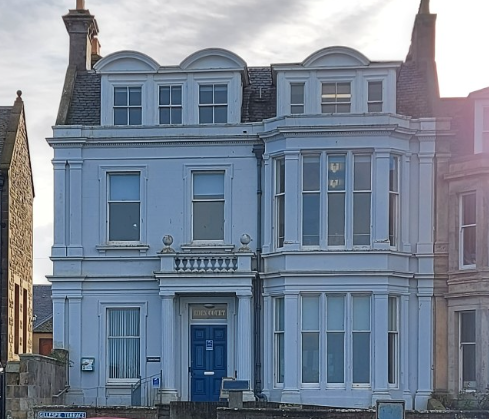 Kosacki used his previous experience designing a device capable of detecting unexploded ordnance to help him in his challenge. He and his assistant produced protypes, which they tested on West Sands. Only 3 months after he started, Kosacki's design was submitted to the British Army for consideration. The design weighed only 14kg and was operated by a single person; it triumphed in the competition, beating six other British designs.
Kosacki did not patent his landmine detector and handed it over to Britain free of charge. For his work he received a handwritten from King George V. 500 units of his invention were swiftly manufactured and sent to North Africa to take part in the Battle of El Alamein, which halted the German and Italian advance in Egypt.
During World War Two, Kosacki's name was never published in full alongside his designs. It was often shortened to "Jozef Kos", "Kosacki", or "Kosak". This was to protect his family from persecution by Germany as they had remained behind in Poland after Kosacki had first fled.
Impact of his Detector
The device was used extensively throughout the rest of the war, and the basic design was still in use until the First Gulf War in 1991; it has saved countless lives and limbs. Kosacki's design consisted of two metal coils. The first coil was connected to an oscillator, which generated an oscillating electrical current of acoustic frequency, while the second coil was connected to an amplifier and a telephone. When the coils came into the presence of a metal object, the electrical current through the coils was disrupted and the telephone (which was connected to a set of headphones) reported an altered signal.
After the Army
After the war, Kosacki returned to Poland. He held the Chair of Electronics for Nuclear Research at the National centre for Nuclear Research in Świerk until his retirement in 1976. Additionally, he was also a Professor at the Military University of Warsaw. He died in 1990 and was buried with full military honours.