James Bell Pettigrew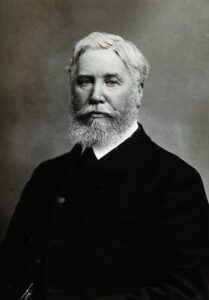 Education and Early Career
Bell Pettigrew was educated at the University of Glasgow and later the University of Edinburgh to continue his study of medicine. He was an outstanding scholar of anatomy and appointed Croonian lecturer at the Royal Society of London in 1860. Throughout the next few years, he graduated from Edinburgh, became a surgeon at the Royal Infirmary, assistant at the Hunterian Museum at the Royal College of Surgeons in England, and experimented with artificial flight. 
Achievements
In 1875 he was appointed Chandos professor of medicine and anatomy and dean of the medical faculty in the University of St Andrews. In 1877 he was elected by the universities of Glasgow and St Andrews to represent them on the General Medical Council. After 1886, when a new medical act enabled each of the Scottish universities to return its own member, Pettigrew represented St Andrews alone on the council.
Legacy
St Andrews University's Bute Medical Building has been home to the Bell Pettigrew Museum since 1912. This is a museum of natural history displaying fossils, skeletons, taxidermy and spirit collections, taking visitors on a journey through the animal kingdom.