General Władysław Sikorski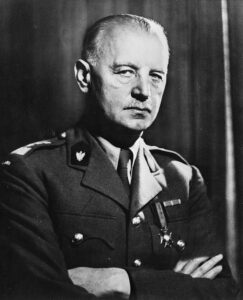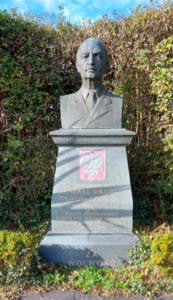 Władysław Eugeniusz Sikorski was born in Poland in 1881.  He fought in World War One and in 1922 was appointed prime minister of Poland, which at the time had been a nation for only 4 years.  During World War Two, Sikorski was reappointed the prime minister of the Polish government-in-exile and became Commander-in-Chief of the remnants its armed forces. After the fall of France, the remaining Polish forces were stationed along the East coast of Scotland, with an army unit based in St Andrews. This led the Polish General to visit St Andrews on many occasions, the first of which is dated October 1940 when he and Winston Churchil inspected costal defences which the Polish soldiers were building. In March 1941, Sikorski was awarded an honorary degree by the University. Later, in July 1942, he gifted the University a collection of rare and historic Polish coins; these coins are still in the university's procession. 
The coins were a thank you for the University supporting Polish soldier-students in their studies, and he remarked that the institution's facilities had been assisted almost 100 such students. He further elaborated the following:
"Professors, as well as students, are murdered, and the universities [in Poland] robbed of their treasures. Places of learning are now chambers of torture, and the youth of our country are deported in masses to slavery of the enemy labour camps. I thank the university for what has been done for the men, and for upholding the culture of Poland, where the enemy were striving to blot it out in their passion for cruelty. Whatever can be done to increase the number of educated men will be of priceless value for the future of Poland."
In July 1943, Sikorski died in mysterious circumstances. He was returning from the Middle East when his plane crashed off Gibraltar just after take-off. The pilot was the only survivor. There is speculation that his death was an assassination by the Nazis, the Soviets, or even the British, although no definitive answer has been found. Due to the occupation of Poland, Sikorski was buried within the Polish War Garves at Newark Cemetery in the United States of America, but in 1993 was repatriated to Poland. He has a stone memorial bust in Kinburn park, St Andrews.