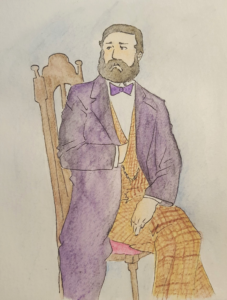 Iván Szabό, drawing by Elena Romero-Passerin D'Entreves after a self-portrait of the photographer
Iván Szabό, born in 1822, was from Marosvásárhely, present-day Târgu Mureş, a city in Transylvania, which was then part of Hungary but nowadays belongs to Romania. Not much is known about Szabό, and indeed we can only assume of his early life that he enjoyed a good education since he knew many languages. His origins remain rather obscure too: We do not even know his parents' occupation because it is given as "unknown" in their death certificate. As a young adult, Szabό ran a book-selling business in Pest, nowadays a part of Budapest.
In 1848, the region witnessed a major conflict between local populations and the Habsburg Empire as a part of the Hungarian revolution. Iván Szabό was involved in the resistance against Austria: He was a captain in the siege of the city of Komárom, which later became a bastion of Hungarian resistance. The Austrian enemy besieged this city, but the Austrians decided to end the war quickly by offering the generals good terms if they surrendered – successfully. Thus, Szabό received enough resources to settle in Scotland in 1849. Why did he settle in St Andrews? This is one out of many facts unknown about Szabό's life.
Once in St Andrews, he left his military path and exploited his knowledge of several languages by teaching French and German at Madras college, assisting Samuel Messieux, the Headmaster of Modern Languages. He also offered private language courses for adults and later taught at Abbey Park school.
Since St Andrews was a dynamic and important centre of early photography, it is not surprising that Szabό also learned the art of photography. Thomas Rodger, the professional photographer in town, taught him the calotype process, an early photographic process. Szabό was active as an amateur photographer until 1857. He was no professional, that is, he did not run any studio at the time. However, he moved to Edinburgh in 1857 and opened his own studio there. Did he possibly want to distance himself from his teacher Thomas Rodger?
Iván Szabό was primarily a portrait photographer. Among other, he had the honour to create a profile portrait of Sir Henry Fox Talbot, who had introduced the early photographic process of the calotype. Moreover, he photographed Sir David Brewster, the principle of United College at St Andrews University and the leading figure in the photographic circle of St Andrews. However, most of Szabό's sitters were members of the upper classes paying for being immortalised with the help of the then very modern technique which allowed an extremely accurate rendering of details.
Since the creation of photographs was highly complex at the time, Szabό employed James Farmer as his assistant. Letters of correspondence between members of the photographic circle and their customers in St Andrews and beyond allow for an insight into the then time-consuming practice of taking photographs:
We spent almost three hours this morning at Mr Ivan Szabo's: he made two portraits (or rather four) of Rosamond and Tilly which he is very happy with; he would have liked to have done Matilde in another costume, a third time, but there was not enough time.
Iván Szabό's photographic work rose considerable critical acclaim. He showed his work at various prestigious exhibitions. His probably largest entry were 26 portraits at the "London Photographic Society Exhibition of Photographs and Daguerreotypes" that opened at South Kensington Museum on 15 February 1858. Critics at the annual "Photographic Society of Scotland's exhibition" equaled him with his teacher, Thomas Rodger. In 1857, he won a Gold Medal at a Brussels exhibition. As he was from outside the UK, Madras college once defined him one of the "foreign riches" brought to St Andrews by the school, thus using Szabό to promote the importance of the school.
Many photographic societies were founded around Scotland to promote the new technique and encourage experiments to refine it. In 1856, Szabό was made an honorary member of the Photographic Society of Scotland – as one of very few foreigners. His reaction was modest: He said that he would be happy to be just an ordinary member. Was he being genuinely modest or was it all a show?
Even the great Sir David Brewster recommended Szabό as a photographer in a letter:
If you know of any friends who wish to have a good photograph of their family, I would recommend to them, as a first rate artist, Mr Szabo, a Hungarian who was one of the Hungarian army surrendered at Komorn [sic]. […] He is quite a gentleman and a most sensible fellow. […]
Apparently, Szabό suffered of poor health and died at a very young age only one year after his move to Edinburgh. His tomb is located in Grange cemetery in Edinburgh.
Further reading:
http://gaedin.co.uk/wp/cemetery/8-ivan-szabo-1822-1858
http://www.edinphoto.org.uk/pp_n/pp_szabo.htm
http://gaedin.co.uk/wp/wp-content/uploads/2020/08/Some-Notable-Burials-for-screen-2020-08-v5.pdf
http://foxtalbot.dmu.ac.uk/project/project.html (letters 7607, 7611, 7619)
Shadow and substance: essays on the history of photography in honor of Heinz K. Henisch
Stevenson and Morrison-Low, Scottish photography: The First 30 Years, pp.133-135
"Out of the Shadows: Ivan Szabo (1822-58), a forgotten 'photographic luminary'" by James Downs, in Studies in Photography, 2008